Kahi Kahiasvilli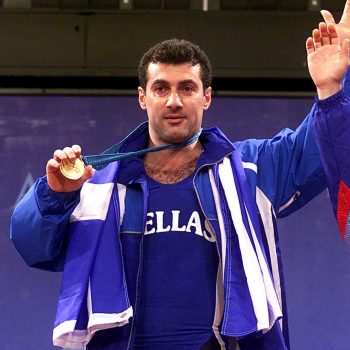 Gold medal, July 28, 1996, Akakios Kachiasvilis, cat. 99kg. Atlanta 1996
Akakios Kachiasvilis traveled to Atlanta with the goal of winning his second Olympic gold medal, this time in the colors of Greece. in 1992 he had won in Barcelona in the 90kg category in the colors of the United Team. in 1996 he competed in the 99 kg category and his main opponents were the experienced Anatoli Khrapaty from Kazakhstan, who holds the world record in the jerk with 228 kg, and Denys Hotfrid from Ukraine. The fight in snatch showed that the decision for the gold medal would be made in the details. Khrapaty and Hotfrid, with 187.5 kg, had built a 2.5 kg lead over Kachiasvilis, who had stayed at 185 kg. But everyone, knew the power of Akakios in the jerk and believed that the fight was not over yet. The Greek champion started the set with 220k and Khrapaty answered with 222.5kg to keep the lead, while Hotfrid had been knocked out earlier with 215kg. Akakios continued successfully and easily with 225kg, while Khrapaty ended with a miss at 227.5kg. Kachiasvilis was a candidate for gold due to his lower bodyweight. But he had one more attempt, and he wanted to show everyone his superiority. Instead of lifting the barbell to 228.5kg for a new world record, he increased the weight to 235kg and the fans in the hall went crazy with excitement. The Greek champion lifted the entire 235 kg, becoming the world record holder in the jerk and also in the total with 420 kg. The final  ranking:  Kachiasvilis (Greece) 420k Khrapaty (Kazakhstan) 410 Hotfrid(Ukraine) 402.5 Rybalchenko (Ukraine) 395 Rubin (Russia) 390 Smirnov (Russia) 390 Sadikov (Germany) 385 Grigorian (Armenia) 380.
Gold medal, September 24, 2000, Akakios Kachiasvilis cat. 94kg. Sydney 2000
The fight in the 94 kg category was sensational, unique in its development in history and with a thousand and two imponderables, unusual in the past. Akakios Kachiasvilis was well on his way to win his third consecutive Olympic gold medal and to break this unique record with Naim Soulimanoglou and Pyrros Dimas. His only problem was a bruised leg, which caused some uncertainty. In the snatch the Greek champion lifted 185 kg and missed 187.5 kg, which would have given him a clear lead, but even so he was two and a half kilograms ahead of the young Pole Szymon Kolecki and five kilograms ahead of the Russian Aleksey Petrov, the Olympic champion with 91 kg from 1996 in Atlanta. Ahead of him was Iran's Kouroush Bagheri with 187.5 kg, but all the experts knew that he could not reach as high as he did in the clean and jerk, as he stayed at 215 kg. Akakios, who felt pain in his leg, started the set at 220kg and then left himself to the strategy of Christos Iakovou, who destroyed the opposing coaches in the tactical game. No one understood that Akakios was in pain, which Iakovou managed to handle with a thousand tricks during the warm-up. But he immediately realized that Kolecki, who had lifted 222.5 kg at the beginning, also hurt his leg and decided that it would be impossible to lift more kilos. So he decided to wait and lead his athlete in a waiting fight, since Kachiasvilis was lighter than Kolecki and Petrov. So he put the barbell up to 227.5 kg and took advantage of Akakios' past. Everyone knew how strong he is in snatch, so his decision to try 227.5 kg was considered normal by everyone. Kolecki tried it only once unsuccessfully, Petrov failed another time, and Kachiasvilis never had to try at that weight. He was already a gold medalist with a draw, being lighter than the young Pole. Never in Olympic history has a gold medal been decided with only one attempt on the beam. The final ranking: Kachiasvili (Greece) 405k Kolecki (Poland) 405 Petrov (Russia) 402.5 Bagheri (Iran) 402.5 Vakarciuc (Moldova) 397.5 Kovacs (Hungary) 397.5 Sudas (Turkey) 392.5 Luna (Venezuela) 392.5.
They said..
"The fight was very difficult because Khrapaty is a very experienced athlete. We knew roughly what his tactics would be, and I was prepared to counter his every move. It was like a game of chess. I dedicate my victory to Greece and the Greeks, and I look forward to the moment when we return home to celebrate my medal with them. Now, of course, I need rest because we have worked so hard for so long, mornings, evenings, the whole team, and we have forgotten everything that has to do with our personal lives. We have made many sacrifices, but our joy is now even greater"
July 28, 1996
"I was not satisfied with my performance in the Snatch, while in the Clean & Jerk I had an injury problem. The Pole tried to confuse us, which he did not succeed, but he is young and a great talent. He deserves respect, and if I want to treat him well in the future, I can not sleep peacefully at night. It is true that for the first time so few kilos were lifted in this category. If Kolecki had lifted 227.5 kilos, I would try to do the same, even with pain. It would be a big risk for me, but it could not be done any other way. I am happy and proud of my medals and I know that all Greeks are happy today as well
September 24, 2000